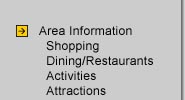 RELATED SERVICES

Attorneys


James Karl & Associates
We understand the needs and requirements of clients and are committed to providing quality client services. It is our sole responsibility to provide professional services working closely with all parties to the real estate transaction and to meet or exceed their expectations.

Art


Clyde Butcher - Big Cypress Gallery - Black and White Photography by internationally recognized photographer Clyde Butcher

Landscaping and Lawn Service




Allied Paver Systems - Our main focus has been to provide on time, high quality services to contractors and homeowners alike. Our jobs get done to client specifications every time, and jobs are completed at or under budget. We accomplish our goals through dedication to our clients, dedication to quality, and our ability to effectively schedule and motivate our industry leading teams of installers.